On June 5, 2023, South Sudan Ambassador Delegation H.E. Amb. Monday Semaya K. Kumba, Ambassador Extraordinary and Plenipotentiary of the Republic of South Sudan to China, Mr. Alex Latiyu Elia Lado, Minister of Animal Resources, Fisheries and Tourism of Central Equatoria State, Hon. Eng. Charles Joseph Wani Gore, Commissioner of Juba County and Mr. Jimmy Gama Hassan,Counsellor – Embassy of the Republic of South Sudan in Beijing, and other leaders visited the Chengdu RD and Marketing center of XLY Salvationdata Technology INC. for cooperation and talks.
The oversea sales and technical team of SalvationDATA have received the ambassador delegation and attended the conference. At the conference, Sales manager Shirley has introduced the core products and technologies of SalvationDATA to the delegation. We SalvationDATA was established in 2001, which focuses on digital forensics and data recovery. We have served more than 10,000+ customers in more than 30 provinces and cities across the country and more than 130 countries and regions around the world.
At present, the main forensic technologies that can be promoted and used in African countries include mobile forensics, data recovery, and so on. We deeply integrated the core technology with the industry to provide safe and efficient solutions for customers in various industries such as public security, government, army, and procuratorates. Ambassador Kumba and the delegation were deeply interested in this kind of cutting-edge technology, and said that their country is in great need of these technologies, and asked related questions about product technology and data security. We provided a professional explanation for their concerns. Our product technology is industry-leading internationally, and it is also very suitable for African countries.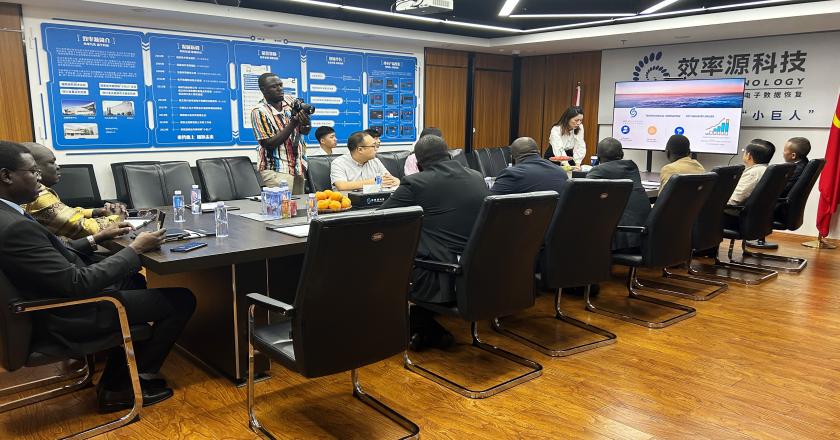 After the symposium, we took the delegation to visit the product R&D center in detail, and explained our core products SPF Pro(smartphone forensics pro), DRS(data recovery system) portable and the one-stop digital forensics laboratory.
At the end of the visiting, ambassador Kumba and the delegation learned the cutting-edge technology of digital forensics  in SalvationDATA and  knew how to set up a digital forensics lab in their country and expressed their high recognition and high praise to SalvationDATA.